Posted in Pix on Dec 8th, 2009
Last Sunday, 85 days after I fall down go boom, I finally got my fat ass back in the saddle. And it was great!
The biggest thing holding me back was my left ankle — I dislocated it really badly and I wasn't allowed to walk on it for what felt like forever. First I was in a cast, then I was in a "walking boot" but not allowed to walk on it, and I finally got clearance to put weight on it just before Thanksgiving. At that point I couldn't put any significant weight on the foot, so I was still gimping around on crutches, but a week later I had moved on to a cane. And most importantly: I quickly built up the strength in my left foot to be able to get the bike off the kickstand.
That was the final hurdle: If I could get the bike off the kickstand and only had to bring one cane vs two crutches with me when I rode somewhere, then it was time to ride somewhere. Which is exactly what I did.
So last Sunday I finally got my knees in the breeze again and put 75 miles on the clock. I was a little shaky at first, but I felt pretty comfortable by the end of the day. It was awesome. My wife, however — she is not thrilled…
And I have to show off my cane holder because I think it's fucking brilliant. I Googled "cane on a Harley" and "motorcycle with a cane" and crap like that before I rigged it up, looking for ideas, but there's nothing on it out there. Until now. So here, for all my fellow motorcycle-riding gimps, here's how to carry your cane on your motorcycle: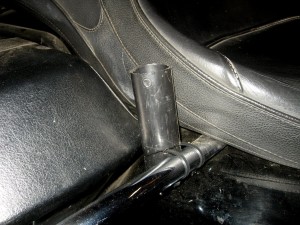 Zip-tie a scrap piece of PVC pipe to the saddlebag guard. The cane handle will slip in here.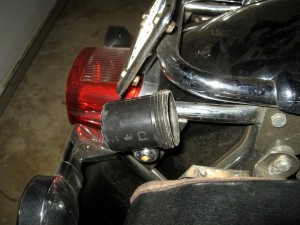 Zip-tie another piece of PVC pipe to the TourPak mount — the cane will slide through here to keep it from flopping and rattling around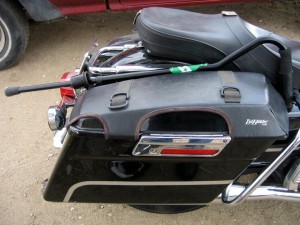 Here's how it looks in action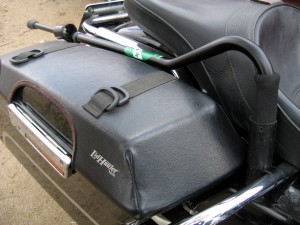 Here's another angle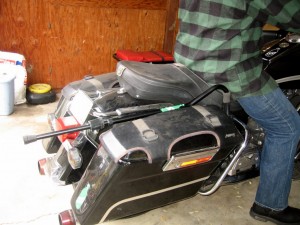 One more angle — this time with the rider (me)
I did have one more problem beyond getting the bike upright and carrying the cane — the walking boot I have to wear makes shifting gears an adventure, and it's impossible to put the kickstand up because the boot hits the floorboard and I can't angle my foot over. So the cane was good for more than walking: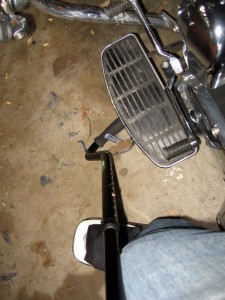 You can also use the cane to pull up the kickstand
You can also use the cane to pull up the kickstand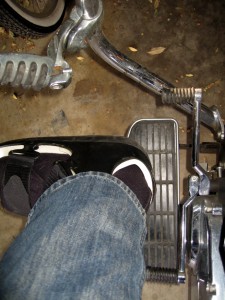 Heel & toe shifters? Nah, just the heel — for up and downshifting
It's great to be riding again. I just don't want a repeat of this: