Posted in Pix on Sep 13th, 2010
Today's the anniversary of the get-off that landed me in the hospital last year, so I figured I should check in with a progress report.
All things considered, I'm doing really well. My ankle is still stiff and painful when I first start moving, but it's just fine once I get it warmed up. In fact, I've started running on the treadmill to try to drop some of the weight I put back on after losing 30 pounds on my "crash diet." The ankle is really the only remaining physical issue I have — everything else has healed up just fine.
Mentally, I'm still not quite there. (Ba dump bump!) Even though I don't remember the crash, it's still in my head enough that I'm not riding with as much confidence and aggression as I used to. I'm back to my old form while lanesplitting, but put me in the twisties in the canyons and pucker factor starts setting in. But I'm getting it back, slowly but surely. I went for a ride with some of my club guys last weekend and for the first time in a long time I was riding with the "fast" group again instead of bringing up the rear with the pussies slow guys.
And I finally went back and completed that turn that took me out. The weekend before last I went back to the crash site for the first time. The club is calling it "Two Buck Turn" now, so I signed a roadside reflector, took some pictures in the street, and actually completed the turn successfully.
So one year later I'm in pretty good shape, I'm still riding, and I'm still happy to be here. You can't ask for more than that…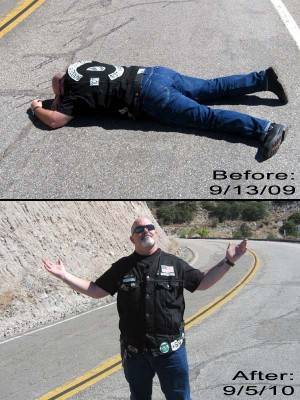 4 Responses to "Same Time Next Year"
I've known guys that have let the nightmares permanently scare them off a bike.
Glad you're starting to face those demons.

Glad to see that you're back and doing well and haven't lost your sense of humor. Nice touch, signing the reflector!

on 08 Jan 2012 at 10:04 pm

3

Seamus

Well, almost a year since the last post. Chuck is a good guy and I hope he's ok. I don't live far from his clubhouse, and I travel in some "adjacent" circles, so I should at least ask around.

I had a great ride today, up San Francisquito to Green Valley, then back down via Bouquet. Incredible scenery. Got a new used 2006 Victory Vegas 8 ball that I want to kiss every time I see it. I go out to the garage sometimes just to look at it and touch it. Then I put my clothes back on and come back into the house.

Happy New Year to all and be safe!

on 08 Jan 2012 at 11:43 pm

4

Two Buck

Hey Seamus, I'm still out here, still kicking. Kind of got out of the habit of posting here on the blog, but I'm still on 2 wheels — new ones in fact; I got a 2009 ElectraGlide Classic recently.

That route you're talking about is part of one of my favorite rides. I go up Lake Hughes Road to the Rock Inn, San Francisquito to Spunky Canyon, then Bouquet Canyon down to Vasquez Cyn and over to the clubhouse. We're having a swap meet there next month, you should stop by and introduce yourself.