I'm calling this entry Jellystone because Beth thinks it's a Yogi Bear world…
So I'm back from Yellowstone and I'm beat like a big dog. The plans that were subject to change… changed. I followed the plan right up 'til Gardiner, then I didn't stop, I pushed on through to Bozeman so I wouldn't have to pay for a hotel room there when I already had one here. I logged 320 miles today, 10 hours getting to and from and roaming around in Yellowstone, and took 200+ pictures. 172 of them survived the inital cut and eventually I'll put together a slideshow that I'll link to from here.
I don't have Photoshop on this laptop, so I'm making do with a shareware image editor so I can post a few pix for your viewing pleasure tonight.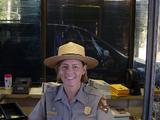 Ranger Jeanne, who granted me entrance to the park.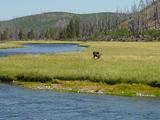 There's a bit of wildlife in Yellowstone.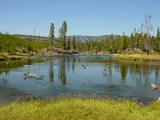 Duck, it's ducks!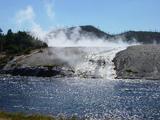 One of Yellowstone's many geysers.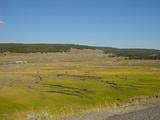 A scene out of Dances With Wolves. Those dots are buffalo grazing.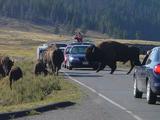 The road is where the buffalo roam and when they roam, you wait.
That's it for now. I have to get to bed; I have an early date with Beartooth Highway tomorrow. I sense another 300 mile day in my future.
Oh, and the town named for me, Atkins? I blinked and missed it. When the odometer said I was there, the only Atkins there was me.