I'm here to tell you, there's nothing to do in Fairbanks. Noth. Thing. It's a small town just like any other that just happens to be in Alaska, which maybe sounds interesting, but in truth there's fuck-all to do here.
Sigh' I had to mention truth, didn't I? Fine, fine, all right. I brought it up, so I'll tell it: there really are things to do here, they're just lame and expensive and stupid, and so I ain't doing them.
The hotel I'm in is somehow affiliated with the Holland America cruise line. How a landlocked hotel 350 miles from the nearest port does that, I don't know, but it is. And so there's a ton of vacationing retirees clogging the hallways and gathering areas of the hotel, and the hotel caters to them by offering tours through an apparent Holland subsidiary, Gray Line of Alaska. These tours are faaabulous. Really, honest and true. Here are a few of them, copied verbatim from my in-room 'Alaska and The Yukon Sightseeing' guide.
Discover The Gold Tour
Approximately 4 hours
$60
Fairbanks owes its founding to the discovery of gold. Your driver-guide will bring those early days to life explaining the misadventures of one Capt. E.T. Barnette and how a rumor of gold actually panned out. Included are stops at Gold Dredge No. 8, the historic structure that dug the bedrock of Goldstream and Engineer'

Bah, fuck that. You aren't going to read all that when you're not even here to do it. Hell, I'm here and I wouldn't read it until I decided to use it in this entry, so I sure as hell ain't typing it all. You can go here to read about it if you're more interested than I was. Suffice it to say that just about every tour out of this place seems to center around the legendary Gold Dredge No. 8, except for the ones that involve either flying or taking a train someplace else.
Yes, you read that correctly: Fairbanks is so dull that they actually organize tours OUT of it. And you thought I was exaggerating when I said there's fuck-all to do here.
But I tried. I took myself sightseeing today. I hopped in my rental car, plotted my position on the 'Shopping Guide to Fairbanks' map I grabbed at the front desk, and headed north.
30 miles out I realized the stupid friggin' map was drawn friggin' backwards, with South at the top and North at the bottom and East and West thus reversed, so I was actually going south. Fucking hell. I had headed north so I could get as close to the North Pole as I was ever likely to get in my lifetime, so south clearly didn't meet that criteria. But at this point I had 30 minutes' driving invested. Fuck it, I kept going south. Maybe I'll get to the South Pole some day and I'll consider this trip a head start.
So I drove. And drove. And drove. And you know what? Alaska looks just like Montana looks like West Virginia looks like Colorado looks like Rhode Island. If you're looking for a two lane highway cutting through thickly forested rolling hills, then pick a state, any state, because they all pretty much look the same. But if you want spectacular mountain ranges in Alaska, don't try Fairbanks.
After a while I got bored and pulled off onto one of the small side roads that intersected the highway. And I drove for a while, and then awhile longer, deeper and deeper into the trees. Eventually it turned into a gravel road and I kept driving. And it all looked just like anywhere else I've been. So eventually I stopped at the most interesting thing I'd seen: This sign.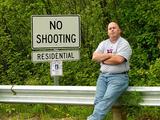 Apparently Residentials are out of season, so you can't hunt them right now. I'm afraid I don't know when they're in season, or what the bag limit is. I'm also not clear on whether the lost dog is fair game or not. Sorry.
The most remarkable thing about this picture is so small that you probably can't even see it: mosquitoes. There are probably a dozen of them perched atop my head, sucking my blood, and dozens more circling getting ready to attack. Big ones, too, probably an inch long. And they were hungry. I took this picture and then sprinted back to the safety of the car before they could eat me alive. Then I turned around and returned to my hotel.
So you see? There's fuck-all to do in Fairbanks. But I'm not bitter, I'm just bored. On the bright side, at least my little adventure left me with something to do: scratch all my mosquito bites.