Inspired by Mike Reed over at Man About Murfreesboro, I went over to The Something Store and ponied up ten bucks for … something. That's their deal: you send them $10 and they send you something. You have no idea what you're getting until you open the package.
It's a brilliant business idea. You buy up surplus merchandise from various manufacturers for what I imagine would be pennies on the dollar, then you turn around and sell it to schmucks like me and Mike who are goofy enough to buy into a marketing campaign that makes it sound fun to throw ten dollars into a hole in the internet. We are living examples of the old saying that "There's a sucker born every minute."
Mike got a pair of sunglasses, which I think was kind of a let-down for him. But me? I scored. I got this: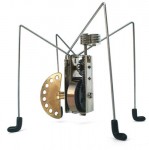 It's a Katita Wind Up Gear Box from Kikkerland, and I think it's totally cool. You wind it up and it sort of dances around frenetically for a few seconds until it runs down. That's it, the end, and it's exactly the kind of thing I was hoping for when I ordered … something … without knowing what I'd get. It's goofy and cool and totally worth the ten bucks I paid for it.
Oh, and that bit about a sucker being born every minute? Include me right out on that. I checked the price for this little baby on the Kikkerland website. Guess how much? Twelve bucks. I paid ten. Who's the sucker now, somethingstore.com???