I met a couple of former coworkers for lunch the other day. I'm normally not a "let's hang out with people we work with" kind of guy — they have to pay me to associate with those people for 8 hours a day and then I'm supposed to be with them even more for free? Huh uh, not this misanthrope. But I made an exception for Wendy and Diana because they were two of my favorite people at that job. Plus, they drove up from Orange County just to see me. (Well, okay, just to go shopping at a particular store in L.A., but they said they'd try to fit me in for lunch.) So I hopped on my bike and headed over the hill.
Here we are when things were good right after lunch…
But then Diana mentioned that she just got her motorcycle license and that she's buying a bike of her own and wow can she sit on my bike just for a second? And then Wendy got all excited about how big the motorcycle was and how cool Diana looked on it and can she sit on it with her? So I was weak: I said yes. I let them "sit" on my bike…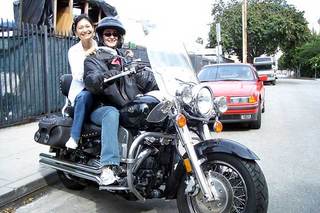 …and can you believe those bitches stole it???
See if I ever fraternize with former coworkers again.