The trick-or-treaters have been and gone, so I guess Halloween is officially over now. Zoe went out with one of her friends and made a pretty good haul and now she's being all greedy with it — won't share at all. Fortunately, I have Parenthood on my side and can ground her if she doesn't give me all the good stuff. It sucks being a kid sometimes. But it rules being a grown-up!
Another of Zoe's friends was supposed to go out with them tonight, but that girl's mother is in-fucking-sane. She called us at 8-fucking-30 this morning (caller ID gave her away) and I let the call go to voicemail because do NOT fucking call my house before 10 a.m. on a weekend because we're slackathors and prefer to sleep our weekends away and what the hell is anyone doing up before 10 on a weekend if you're not skiing or scuba diving anyway? And then the stupid bitch called AGAIN 30 minutes later! Wide awake now, I answered the phone. Surely something critically emergent was happening that required her to call us twice in one morning 30 minutes apart, something threatening Life As We Know It. And indeed it was That Fucking Important: her daughter would not be trick-or-treating with us tonight after all. Something about her attitude needing adjusting and making better choices and what-the-fuck-ever. So I grunted and hung up. Because what the fuck? You had to call me at fucking dawn to tell me that? Twice? And you couldn't just leave a message the first time? She'd better run the next time I see her. Fast.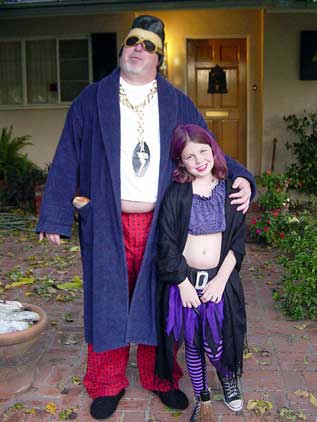 Seriously, that kid's mom is nuts. Her kid is a handful, there's no getting around that. Behavioural issues, poorly socialized from previous foster care, not the sharpest tack in the drawer, and just an all-around weird kid in general just for the sake of being weird (at least that's what I think). During one of her sleepovers here I found her sitting alone in Zoe's room staring slack-jawed at the light on the ceiling. I asked her what she was doing. "Uhh…. Just staring at the light." While still staring. So, seriously, the kid is a freak. But I doubt she did something so out there that it warranted banning Halloween. That's just mean. I felt badly for her, and I half suspect there was a Mommy Dearest moment going on over there after I got off the phone.
But anyway… So Zoe did the trick or treating thing while I stayed home and handed out candy. I was Fat Elvis and Zoe was an age-appropriate not-sexy teen witch. Check out the super fantastic fabulousness of our costumes. FYI, that's a TCB necklace I'm wearing and a peanut butter-and-banana sandwich in my bathrobe pocket. For verisimilitude, ya know. (I was going to do Dead Elvis but I couldn't come up with a toilet I could put on the porch to sit on.)
I wished everybody Happy Halloween and thanked them for coming in my Elvis voice, and one kid made me sad when he said I sounded like Johnny Bravo. You're wrong, kid, I told him. Johnny Bravo sounds like ME. I'm Elvis, baby, I'm the King, and don't you forget it. Ask yer momma, she'll know, momma-baby. This kid didn't get the good stuff: Snickers or Reeses. No, he got the crappy Bottle Caps. Six-year olds. No frame of reference. Pitiful.
We had a little jack-o-lantern disaster out front too. This seems to happen every year, probably because Zoe and I can't wait to get started and carve the pumpkins too soon, but our pumpkins start wilting in the heat. And getting moldy. And oozing. And collapsing. And it happened again this year. The big pumpkin held up okay, but the little one — the one we called Frankenpumpkin because it had scars extending down both sides of its face — well, the little one suffered a loss of structural integrity. Its face collapsed. It was very Nicholas Cage/John Travolta in Face/Off, only the story was believable and the acting didn't make you cringe.
Here's how it looked burning merrily away pre-disintegration: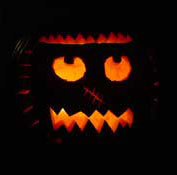 And this is post-disintegration. (Zoe added the Kleenex for comic effect. It represents the pumpkin's guts):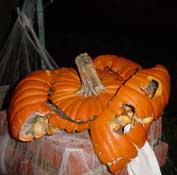 There was still some open space inside the spoogey mess after it collapsed and I didn't want to see it die in vain, so I crammed a candle in there and lit it. It wasn't much of a jack-o-lantern, but it tried, dammit: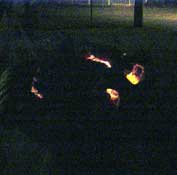 And… That's it for this Halloween. Now I'm going to go raid Zoe's candy sack.