If you've been to Chuck's today, you know it's our wedding anniversary. Lucky #13. You also know that for a variety of reasons, we never got our wedding pictures.
Yes, periodically we'll drag out the proofs, still in pristine condition, in the boxes they came from the photographer in. I'm going to estimate that no more than 20 people have ever seen our "official" wedding pictures.
In fact, two weeks ago we were at Chuck's mom's house and she brought the subject of our wedding pictures up. What ever happened with them. How much she's love a picture from our wedding. Blah blah blah blah blah. Chuck and I both laughed and were emphatic that there would be no wedding pictures. Yes, we have them. Yes, they're lovely. Yes, the photographer is still in business, in fact, we drive by his studio regularly. But NO, there will be no wedding pictures.
It's a bit funny (and frankly not surprising to me at all) that Chuck decided to document our lack of wedding pictures today. Not surprising because I too had been thinking of talking about that today, in honor of our anniversary. So when Chuck told me he had a new entry up and I went over there I laughed at his topic of choice. Then I was secretly a little crestfallen because I wanted to talk about it too.
But then I read his entry. The whole entire entry, complete with clicking on his links and re-reading our history (very convenient this whole weblog thing for remembering your past). And when I got to the bottom of his entry I was relieved. Because he had not stolen my Ace In The Hole (click to enlarge):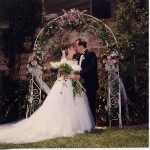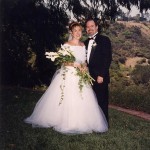 Happy anniversary woobie. I love you.