Shortly after we moved into this house, about eight years ago now, I bought a peach tree from Costo. It wasn't much of a tree. Mostly a stick with roots packed in sawdust. I planted that stick with roots and about two years later I started getting peaches.
The peaches on this tree are the "peachiest" peaches I've ever eaten. The flesh is a deep yellow. When I'm diligent about thinning out the fruit when it buds, we get nice-sized fruits. Even when I'm not so diligent we get decent-sized peaches. Frankly, these peaches are the best peaches I've ever eaten. I'm so spoiled by these peaches that it never occurs to me to even consider buying peaches at the store.
I pick the peaches from my tree when they're perfectly ripe. As a result, they only last a few days in the fridge. The peaches ripen over a period of about five or six weeks. The first week or so we may only get one or two peaches every other day, but about week two things start to pick up. Some days five or six. Other days a dozen or more.
I've given bags of peaches away. There's been peach ice cream. Peach crumble. Peach cobbler. Peach salsa. Sliced peaches on cereal. The most succulent, delicious peaches fresh every day. It's been incredible.
But now we're on week six of Peach Season 2007. And things are winding down. And that makes me sad. Soon there will be no more peaches for 45 more weeks.
But the thing also about week six is that all the fruit that's left on the tree is ripe. And ready to go. Now.
So that means Peach Jam Season 2007 needed to kick itself into immediate high gear. Yesterday morning I went out to the tree with a small garbage bin and the ladder. I picked nearly every single peach that was left on that tree.
I spent a couple of hours blanching, peeling, and dicing peaches. I made two batches of jam and one badge of peach chutney.
I've never made peach chutney before but I found a recipe with peaches, raisins, onions, garlic, crystallized ginger, brown sugar and mustard seeds that sounded really delicious. I added a couple of jalapenos that I picked from our veggie garden (an entry for another time). I canned about 10 pints of that with a little leftover in the fridge that I'm going to serve with grilled chicken. Yum (I hope).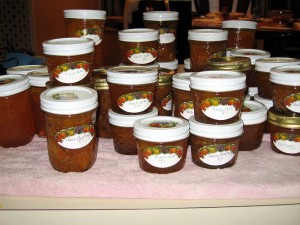 Now, if I only hadn't forgotten to get peanut butter at the store…